Bathroom Blinds, Shades and Shutters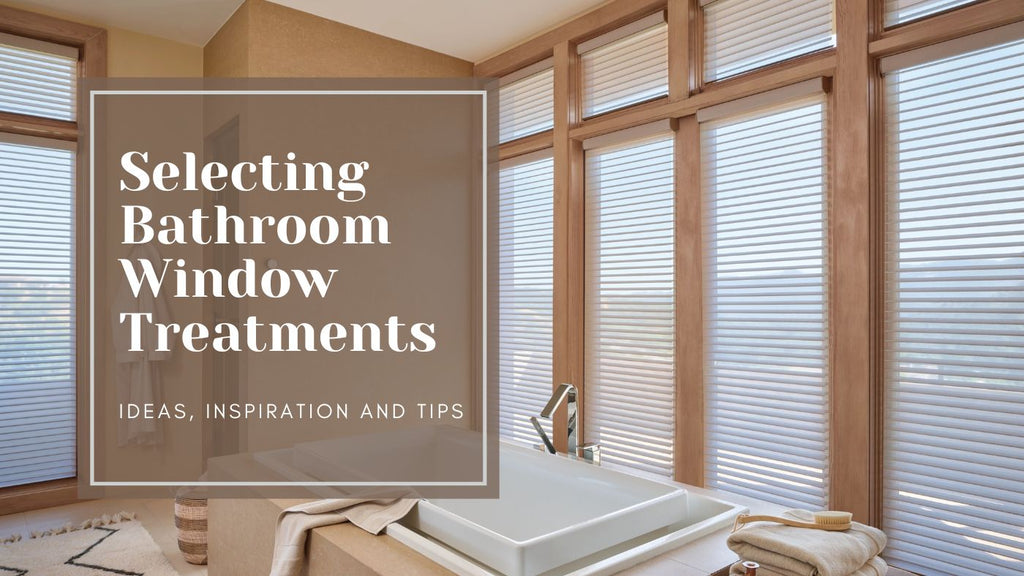 Custom window treatments transform the functionality and aesthetics of your bathroom. Hunter Douglas, an industry leader in window fashions, offers a wide range of options to turn your bathroom into a stylish and private oasis. Here, we'll explore options and discuss important considerations to keep in mind when making your selection.
Why Hunter Douglas?
Let's briefly highlight why Hunter Douglas is an excellent choice for bathroom window treatments:
Quality and Durability: Hunter Douglas is known for producing high-quality window treatments that are built to last. Bathrooms are often humid environments, so choosing durable materials is essential to prevent warping or damage over time.

Customization: Hunter Douglas offers a wide range of customization options, from fabrics and colors to operating systems. This ensures that your window treatments will perfectly complement your bathroom's décor and meet your unique needs.

Innovative Technology: Hunter Douglas continually invests in innovative technologies, such as motorization and light-filtering options, to provide convenience and energy efficiency in your bathroom.
Ideas and Inspiration
Now, let's explore some of the Hunter Douglas options for bathroom window treatments:

Duette® Honeycomb Shades are a popular choice for bathrooms. They offer excellent privacy while allowing natural light to filter through. These shades are available in a range of colors and fabrics, making it easy to match your bathroom's color scheme. Duette® shades also have insulating properties, which can help regulate temperature and energy efficiency in your bathroom.
2. Silhouette® Window Shadings

Silhouette® Window Shadings are perfect for creating an elegant and soft ambiance in your bathroom. These shades have adjustable vanes that allow you to control the amount of light and privacy. Silhouette® shades are available in various opacities, ensuring you have the desired level of privacy without sacrificing natural light.
3. Palm Beach™ Polysatin™ Shutters
 
If you prefer a timeless and classic look in your bathroom, consider Palm Beach™ Polysatin™ Shutters. These shutters are made from a durable, UV-resistant material that won't warp, crack, fade, or peel in high humidity. They provide excellent privacy and light control while adding a touch of sophistication to your space.
4. EverWood® Alternative Wood Blinds
 
If you love the look of real wood but are concerned about potential moisture damage, EverWood® alternative wood blinds are a fantastic alternative. These blinds are crafted from premium materials that mimic the appearance of wood while being resistant to moisture. With a wide range of colors and finishes, you can achieve a natural wood look without compromising on durability.
5. Provenance® Woven Wood Shades 
For a more organic and textured look, Provenance® woven wood shades bring a touch of nature into your bathroom. These shades are made from natural fibers such as bamboo, grasses, and reeds, creating a warm and inviting ambiance. They filter light beautifully and offer various opacities to suit your preferences.
Important Considerations When Choosing Bathroom Window Treatments:
Moisture Resistance: Bathrooms are humid environments, so it's crucial to choose window treatments that can withstand moisture. Hunter Douglas offers several options with moisture-resistant materials.


Privacy: Depending on your bathroom's location and your preference for privacy, consider whether you need window treatments that offer complete blackout or diffused light while maintaining privacy.


Operation: Think about how you want to operate your window treatments. Hunter Douglas offers various operating systems, including manual, motorized, and even smart home integration.


Style and Aesthetics: Your window treatments should complement your bathroom's décor. Consider the color, texture, and style of the window treatments to ensure they enhance the overall design.



Energy Efficiency: Look for window treatments that can help improve energy efficiency in your bathroom. This can save you money on heating and cooling costs in the long run.
In conclusion, Hunter Douglas offers a range of stylish and functional window treatment options for bathrooms. By considering factors like moisture resistance, privacy, operation, style, and energy efficiency, you can choose the perfect window treatments to transform your bathroom into a private oasis of comfort and beauty. Elevate your bathroom's design and enjoy the benefits of quality, durability, and customization that Hunter Douglas products provide. Book a consultation today.